Better Life Options
Background



Prerana's flagship Better Life Options Programme was initiated in 1988. The project was designed keeping local needs and priorities in mind and in consultation with the girls and communities that it would address. It focused on empowering girls with awareness, information and skills that would enable them to access various services and explore better life options. The goal of Prerana's Adolescent Programme is to create an environment of dignity and opportunity for adolescents enabling them to achieve their full potential of personal growth, and ability to contribute to family, community and societal development.
Objectives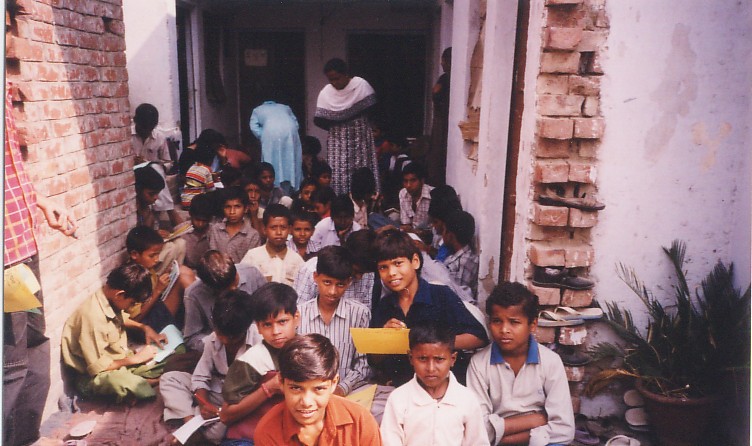 A Better Life Options Workshop for boys, 1987.
The objectives of the Better Life programme are:
Enable adolescent girls to avail better opportunities in life.
Develop educational and vocational skill.s
Facilitate better emotional and physical growth and development.
Improve social and negotiation abilities within and outside the family.
Carve careers and help set Better Life Goals.
The components of the programme are:
Age appropriate Reproductive Health Services.
Individual Skill Building.
Advocacy.
At the field level, in six peri --urban villages on the outskirts of Delhi, the initial stage of the Prerana's adolescent programme project focused on organization of groups of girls in each village in the form of a 'center'. With the gaining of experience, a decentralized approach was adopted by establishing sub-centers in unreached pockets of the villages and the main centers at the village level providing advanced inputs and platform for alumni activities. The sub-centers continue as self sustained independent centres and the alumni girls run and manage these centres as 'Peer Facilitators' and 'Centre In-charge' and provide both skills training as well as FLE inputs to their peers. The total duration of the programme cycle is six months.
Certificate distribution at a Prerana centre, 1988.
The Better Life Option Programme has come a long way since its inception in the late 80's. The Better Life Options programmes continued to operate five peri -- urban villages: Tajpur, Molarband, Meethapur, Aali, Jaitpur in the Badarpur area of District South of NCT of Delhi. The field-based program is self-sustained and self-sufficient and its execution is by and large the responsibility of the communities in which it is being implemented. Without much supervision from the office side, all the centres are running very well and more and more girls are trying to start their own centres, thus moving towards an economically independent and self esteemed future.
Refresher Training of Center-Incharges continues to be an integral aspect of the project, which focuses on capacity building on Life Skills.
Success stories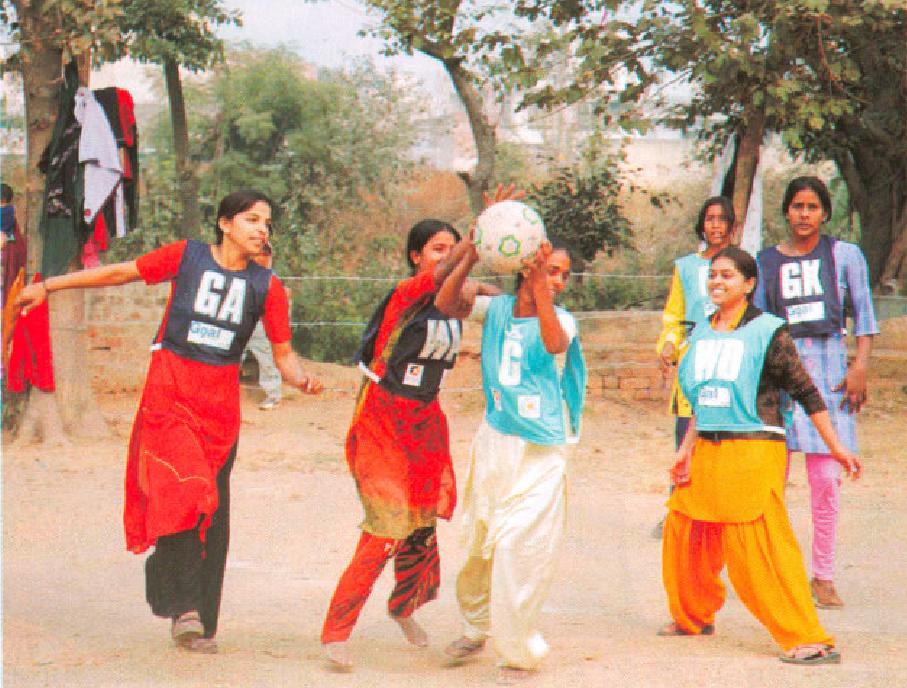 Netball match. Part of the Leadership Programme through Sports, 2004.
Anju from village Lalkuan, who did a course in Beauty Culture from the Prerana centre, now works in a Beauty Clinic in Noida.
Savita from village Aali, now works as the BLO Programme Facilitator, in her village for Prerana, thereby now taking on a supervisory role in the project.
Manju, also from Aali, who learnt painting under the Vocational Skills Program, is now a commercial artist.
Hemlata from village Tajpur is an anganwadi worker, who also runs an independent center in Beauty Culture in the afternoon. As a Prerana "Depot Holder" she interacts on a regular basis with both her peers as well as older members of the community on the subject of reproductive health. She provides advice and supplies.
Tara from village Aali, after having completed a course in Beauty Culture from the Prerana center has now enrolled herself for an advanced course in the same vocation at a local, government-funded Industrial Training Institute. She runs a small Beauty Clinic from her residence and is the local resource person for advanced training courses on the subject.
Aneeta after marriage came to the center and learnt Beauty Culture. A little while later, her husband lost job. In no time she started her own Beauty Center in a small rented room. Now she is running a parlour and a training center, and she has roped in her husband to manage a small cosmetics shop in the same premises.
Mehnaz, from Aali is 19 years old. She completed her skills training in Beauty Culture, has now been employed by Nav Abhiyan, an NGO, to train slum girls in a basti in Jangpura. She trains girls in Beauty Culture and also takes Life Skills Classes.
Chandrakala from Molarband, 22 years learnt stitching and has opened her Stitching centre in Bihar.
Shahnaz, from Aali, is 19 years old. She learnt stitching and computers and now she is working in IDEA ltd. as a receptionist.
Suman, a Peer Educator with Prerana, was appointed an "Anganwadi Worker" under the Govt. of India's ICDS project.
Prerana currently employs four Peer Educators under the Better Life Options programme.